About Coach Boyd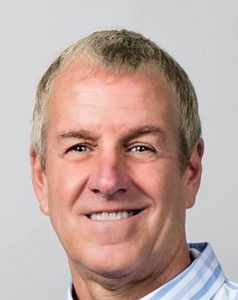 SwimFever.com's CEO and founder Doug Boyd has been immersed in competitive swimming non-stop since he was six years old. What started out as fun-filled summers of country club swimming in New York evolved into a world ranked swimming career followed directly by an extremely successful collegiate coaching and consulting career stretching over thirty years. Coach Boyd has most recently named to the College Swim Coaches Associations of America (CSCAA) "100 Greatest Coaches" list.
The Scarsdale, N.Y. native has coached and taught technique across the country during his lifetime of swimming and has been successful every place he's been. The year 2013, however, turned a new chapter following his most recent stint of nine seasons coaching the Texas A&M men's swimming team and co-coaching with their many swimming camps. Doug began to focus his efforts on developing a company that will give coaches and swimmers at all levels access to the wealth of knowledge in technique and training that he has learned and experienced.
As background, it was in sunny San Diego during the mid-1990's with fellow world-ranked sprinter Steve Crocker that Doug's desire to be an innovator in the teaching of swimming technique surfaced. The two competitors created Sprinter's Paradise Swim Camp which became one of the first private technique-only swim camps in the country. Camp sizes were purposely restricted to allow total concentration on technique skill and development on a never before personal level. Since then, Doug has become widely known for his abilities to teach technique to competitive swimmers of all ages.
In 2002, Doug took his talent in teaching technique to a higher competitive level when he teamed up with Wolverine Swim Camps and the University of Michigan's Jim Richardson. In Doug's two years in Ann Arbor, he split his time between coaching the women's collegiate sprint group and amassing a large stable of private lesson customers of all ages. He also lectured at and conducted coaches clinics and, most importantly, developed and implemented a format for dynamic one-day clinics that focused solely on swimming techniques.
Departing to take on a similar dual role, at Texas A&M University as Associate Head Coach in 2004, helped to further Doug's growth as one the country's best teachers of swimming technique. That position with the men's swimming team offered him the opportunity to work each summer with the highly successful Aggie Swim Camp and its yearly 700 plus campers. Again, Doug took a strictly technique role, running specific technique only sessions. He also got extensive opportunities to work daily with the lower age groups on technique.
ATHLETIC  ACCOMPLISHMENTS
  Twenty-seven-time U.S. Nationals finalist Ranked fourth in the World 1990 – 50 m freestyle (22.46)   USA Swimming National Team member 1989-1992 USA Swimming All-American 1984,1986-1992   1991 World University Games Team – England 1989 Pan-Pacifics Championships Team – Japan 1987 World University Games Team – Yugoslavia Four-time NCAA All-American Five-time Big Ten Conference Champion Indiana University – Men's Team Captain, 1986 Three-time Olympic Trials participant Three-time High School All-American
COACHING ACCOMPLISHMENTS
TEXAS A&M UNIVERSITY     2004-2013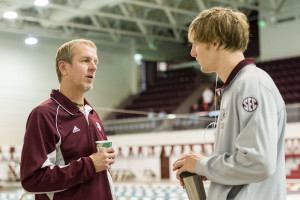 Seventeen Big XII Conference Champions Fifty-Eight NCAA All-Americans Six NCAA top-fifteen finishes

UNIVERSITY OF MICHIGAN     2002-2004
Women's Sprint Coach/Wolverine Swim Camps
2004 Big 10 Champions Seven NCAA All-Americans

RICE UNIVERSITY     1998-2002
1999 Western Athletic Conference Coach of the Year
2002 NCAA runner-up 50 yard freestyle 2002 WAC Swimmer of the year 2002 Rice's first NCAA top 25 finish Five NCAA All-Americans Thirty-two School Records

UNIVERSITY OF CALIFORNIA, SAN DIEGO     1990-1998
1998 NCAA Division III Coach of the Year
Five second & one third place men's team finishes at NCAA's Four second & three third place women's team finishes at NCAA's Sixteen NCAA Champions Three NCAA Swimmers of the Year Four NCAA Records Sixty-nine NCAA All-Americans Sixty-three School Records

INDIANA UNIVERSITY     1988-1990

LOUISIANA STATE UNIVERSITY     1987-1988

INDIANA UNIVERSITY     1986-1987
EDUCATIONAL BACKGROUND
INDIANA UNIVERSITY, Bloomington, Indiana
M.S. in sports management and administration, 1990.
INDIANA UNIVERSITY, Bloomington, Indiana
B.A. in telecommunications, 1986.
THE HILL SCHOOL, Pottstown, Pennsylvania
Graduated, 1982.